Maunawili Out & Back Results, Photos, and Volunteer Appreciation
I hereby declare: Sunday, August 7, 2016 is "Hug a Volunteer Day". In case you are looking for someone very worthy of a hug, please refer to the following list of people that gave their morning to guide you, pull you up from the cliff you just went over, replenish your fluids, feed you, smile at you, and tell you what a great run you are having or tell you that you look awesome – whether you actually do or not. If you cannot physically hug the people listed below, please let them know how much you appreciate the work they did to make your Saturday Run with the Pigs a fantastic experience.
Arvel Shults
Benita Shults
Benito Quintana
Clem Aleka-Gorai
Freddy Halmes
Glenn Oshiro
Jacki Doppelmeyer
Jacque Tellei
Jaren Oshiro
Jay Moore
Jeff Fong
John and PJ Salmonson
Judy Carluccio
Rob Carluccio
Kalani Pascual
Kana Yamamoto
Kelley Hupp
Kevin Myers
Liza, Matt, and Zoe Rippy
Matt Bovetz
Melanie Decker Koehl
Michael Cole
Michael Hee
Sue Lohr
Teresa Henderson
Please forgive me if I omitted anyone that helped. Please know that Neal and I are very grateful for each and every one of you!
The results have been posted, and click on the image below to view Kalani's photos on Facebook.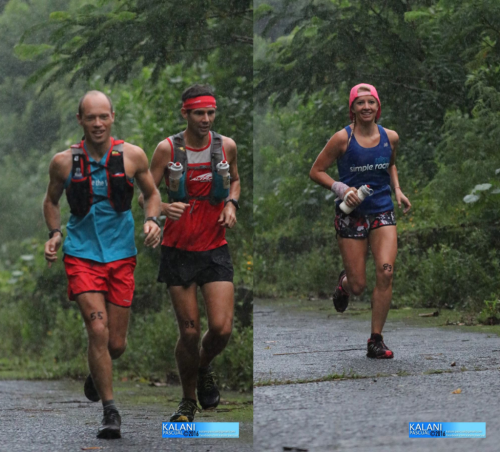 Neal and Marian Yasuda