Kealia Quad Crusher – Race Results & Mahalos
Aloha racers,
Steve and I would like to extend heartfelt thank you's to all who helped make today's inaugural Kealia Quad Crusher a smashing success!! Records were set, wills were tested, and quads were crushed!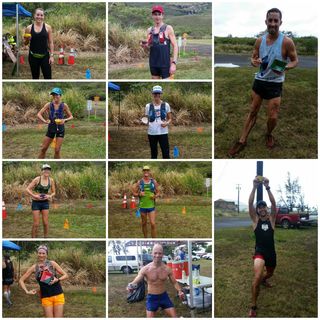 Despite the rain clouds and slick trails, every runner who crossed the finish line of this approximately 11 mile course did so with muddy legs and a smile on their face. 93 finishers completed this challenging course. For the 50+ of you who were virgins to the trail series… welcome! And we hope to see you for the next race in the series, Mango Madness (sign up here). Only 13 slots left so don't delay.
Mile for mile, the KQC is going down in the record books as one of the toughest races out there. Congratulations to our champs – Ryan Karwiel, (1:51:40); and Susie Stephen, (2:19:07). These are smokin' fast times considering the colossal 4,000 feet of climbing. Remember these times as these are now the current course records that you will all be aiming for next year.
We want to thank John & PJ Salmonson, without whom the trail series would not exist. Heartfelt thanks (seriously, thank you) to our course marshals Marian, Judy, Sue, Jeff F., Freddie, Shawna, and Andy C. for braving the chilly temps and doing calisthenics to stay warm in the freezing, wet and windy conditions as they pointed the runners in the right direction. Thanks to our start/finish line crew Mike Hee, Paula, Benita & Arvel, Molly, Travis, Elise and anyone else who jumped in to help at any point. Thanks also to our race photographers Augusto and Kalani. None of this can happen without you!
Thanks again to the race award team – Kelly, Shell,  Augusto & Rosie for the handmade awards. We had the runners pose and show off their quads with their trophies (see image above).
And last but not least, thank you to all of the runners who participated in this wonderful event. It's your smiling faces and wonderful stories of the race that make this all worth while!
View race day photos – Please contact Kalani for permission to use his images elsewhere on social media, or for use in magazines, print, web articles, etc.)
See you next year!
Rosie & Steve