Vi's Top of Tantalus Results and Photos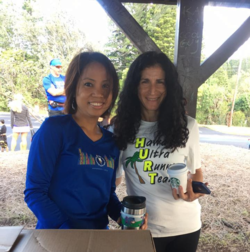 Great job by all the runners' this past Saturday! It was nice to see so many smiles at the finish. Congratulations to Ryan Karwiel, who also won Aiea Loop Express, and Shawna Ping for winning their respective categories. Click here for the results.
Kalani was out in the field again taking wonderful trail photos. View his album through his Facebook Profile.
Mahalo to all our wonderful volunteers who makes our RD job easy: Benita, Arvel, Michael Cole, Rosie, Steve Villiger, Clem, Elisa, Jacki, Jacque, DeAnna, Pricilla Clark, and Mike Hee. Also to the trail marking team of Freddy Halmes, Heather, and Scot Kuwaye. And, of course, to John and PJ who make everything possible for our HURT Ohana.
Next up is Kealia Quad Crusher on May 7. There are a few more slots open, so give your quads something to remember and REGISTER!
Judy and Kat, RDs
Vi's Top of Tantalus