Kealia Quad Crusher Course Preview, Saturday April 30 @ 7am
Aloha Athletes,
Join me this Saturday for a course preview of the 3rd race in the trail series, Kealia Quad Crusher! The race will be a two lap out & back course, so at a minimum we will do a single loop to show you the way and those that like can head out for more torture afterwards. Don't forget to bring water and snacks, there's a few hills on this course.
Meet at Dillingham Airfield by 7am sharp. Along with being one of the safer places to park on the island, water and bathrooms are available at the run start. Directions are here.
Course Description
The race will be a two lap, out-and-back course, approximately 9-10ish miles long. It will start at the Kealia Trailhead, climb 2.3 miles, all the way to the top of Kealia Trail where it intersects with Kuaokala Access Road. Runners will turn around at this intersection and head back down Kealia Trail, retracing the route they just climbed. Returning to the Start-Finish line, they will turn around and run the exact same route up and down the course.
Course Map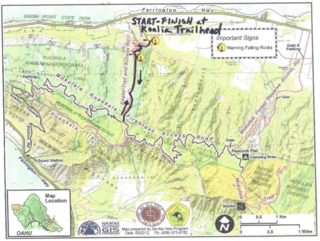 See ya'll Saturday!
If you haven't signed up yet, don't forget delay there are only 6 slots left. Sign up at ultrasignup.
Rosie