Manoa Cliff Project Restoration 8.17.13 – Trail Work Summary
Aloha Athletes,
 
Today the H.U.R.T. group combined forces with the Mānoa Cliff Forest Restoration project to do some maintenance on our beloved Tantalus trails in preparation for Triple Trek on August 31st.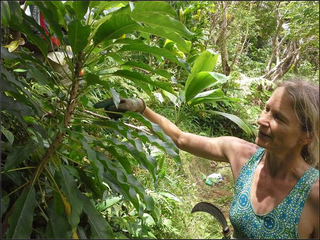 Many of you likely pass through the two gates regularly without giving more than a passing thought as to why they might be there. These gates actually exist a) to keep out feral pigs and b) to outline the perimeter of the 6 acres of land that is being conserved by the Manoa Cliff Restoration Project. While the land is still owned by the State, in 2005, with the assistance of the Conservation Council of Hawai'i, the Project received a permit from Na Ala Hele to restore a section of the Mānoa Cliff Trail between its junctions with the Pu'u 'Ōhi'a and Pauoa Flats Trails. The effort involves manually controlling invasive species and to protect and promote native plant growth. What's amazing is that just about every plant you would think of as being 'Hawaiian' is in fact non-native. From most species of hibiscus, ginger, plumeria, mangoes, avocados, strawberry guavas, bamboo and various other ferns and plants that line that trails, these were all originally brought in from outside sources. Many are a direct threat to the survival of native species such as the well known Koa and Kukui trees.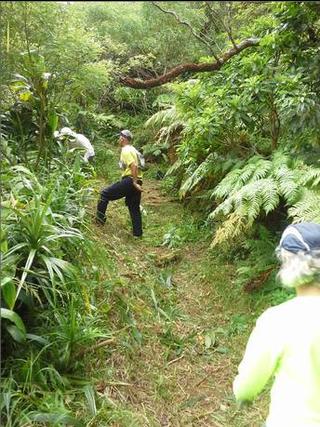 Starting our day, 12 of us met at 8:30 near the pumping station in Makiki to disperse tools and carpool up to the Moleka parking lot on Roundtop drive. From there we hiked in roughly 1.5 miles to the site. On our hike in, our personal guide and regular Manoa Cliff project volunteer, Juliet identified many native plants and gave us tips on what to clear and what to be careful not to disturb. Seeing Mamaki plants (which can be dried to make delicious tea) was a highlight for me! On the hike in, the group slowly split in to two. The first went ahead to the actual work site while the rest of us spent some time clearing as we hiked in. Once we made our way in to the gated area, our main focus was on cutting back palm grass and ginger along the trail. Clem got to work with the weed whacker to put the final touches on our efforts and after a few hours of work, we broke for lunch and made our way out elated by the great work we had accomplished during our day.
HUGE thanks to everyone who came out and special thanks to Juliet Langley for taking such good care of us all and sharing her extensive knowledge and passion for conservation efforts. Thanks to Mashuri and Brandon of the Manoa Cliff Project as well for organizing and welcoming so many of us out to participate.
Participants & Organizers:
Triple Trek RD – Heather M.

Triple Trek RD – Fish A.
PJ & Bob
Wily W.
Cindy Q.
Matt Q.
Clem A.G.
Jacki D.
Kelly S.
Juliet L.
Mike H.
Please visit www.manoacliff.org to learn more about the project. They have work days each and every Sunday from 9am – noon. It's important to give back to the maintenance and support of the trails that give us so much in return!
A hui ho,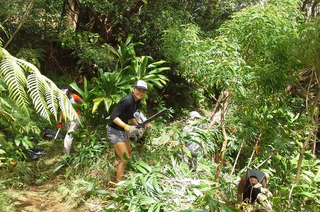 Rosie