New Fun Trail Runs: Starting Saturday–11-24-12 and other announcements
Aloha Athletes,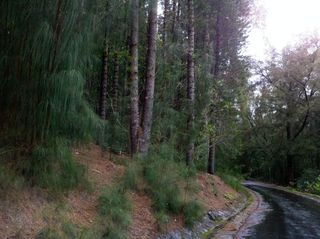 Informal Training Series
We felt that we were missing some informal runs during the winter months – so welcome to the Post Holiday Trail Series.
First run is this Saturday (11-24) at St. Louis Hts., all runs are short, and followed by a refreshment table ($10 donation recommended).
Also in common for all runs, is that there will only be a max. of 100 participants!
Therefore, please email us at holidaytrailhawaii@gmail.com and we will create the list of names before the run, and signing in that morning will be easier.
Sign up on day of race will be on a space available basis.
A little bit about the run: 3 miles, we will begin by the cabin next to the parking lot, and head Makai and we will explore the area overlooking UH – then back up to finish in the same place. The trail has roots, some rocks, and the mud tends to stick to your shoes and you will look like a hobbit!
A little bit about how to get there: Wa'ahila Ridge State Recreation Area is located at the end of St. Louis Hts., kind of…at the top, the street changes names as you don't stay on St. Louis to get there the whole time. Right on Peter Street, and left on Ruth Place will get you there. BUT…parking is limited in the park…so it is recommended that you find parking in the neighborhood, and as always, be courteous to those who live (and sleep there). The park does not open before 7:00AM – and that is when we will be there and available for questions and taking down some names and numbers (on your leg).
Run 2 and 3 are the Saturdays after Christmas (Aiea Loop Trail, 4.4 miles) and New Year (Pupukea, around 6 miles). More info as those runs get closer.
Though HURT is promoting these run, they are not HURT sponsored runs. 
Finally, for those of you who participated in the Peacock race a few weeks back, there are now race bags available for pickup at Runner's HI in Aiea. These arrived late and are now ready for pickup for all participants. So, if you raced, stop by Ray's and pick yours up.
For those of you training for HURT, this is a crucial weekemd, get out there and train! For the rest of you, enjoy your time with family and Happy Thanksgiving to all. 
Got training plans for the weekend, post it in the Comments below for others to join in!
Aloha, Bob