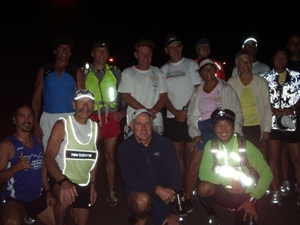 A small but determined group showed up at the Maui Mall ready to tackle the 36.2 miles to the 10,023 feet summit of Haleakala. We had about 7 solo guys and about 3 teams ready to take the challenge.
It turned out later that several others had started at different times and many had ran segments of the course. We kept running into people on the mountain at various stages. Karl Wirtl had started at midnight, several at 330 am and Paul Hopwood and Jeff Sanders decided to sleep in and wait for day light to start. They ran as a team and still beat everyone.
The first solo guy was an ultra from Alberta, Can. named Dave who finished in 6 hrs 2min. He said he had never ran a marathon just does trails in the rockies but runs once a week on the road just to get used to the pavement between 30-40 miles in -10 degrees C.
Nick Kaiser and Mike Muench did the Maui triple. Friday Poli poli state park to the summit about 14 miles, Saturday Kaupo Gap to the summit about 26 miles( 40+mph winds, verocious showers and near hypo thermic conditions, Sunday the finale RTTS 36.2 miles.
There was a 9 member womens team who probably had more fun than all combined. Jay, handlebar moustache, from Long Island NY was back for another assault. Several virgins from Kihei who made it solo.
All in all the weather threatening at first turned out to be mighty fine.
On the way down everyone stopped at Jim and Marne's house for post event party. Chili, stirfrys, desserts, snacks, beverages etc. Just tons of foods, good laughs and cameraderie. Definately the highlight of the day. And best of all no pesky, annoying, fun stopping park rangers.
Rumour has it we have a potential race director for next year so fingers crossed and if not we'll do it renegade/underground again.
Thanks to everyone for coming out, helping and making this a fun day
Bram