Vi's Adventure Trek and Run Recap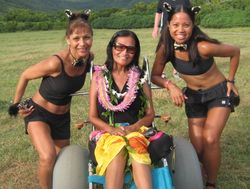 Vi's Adventure Trek & Run came off without a hitch, except for all the cows in one of the pastures- they really weren't supposed to be there, but, what can I say? It actually added a little excitement to the runners' morning. The front runners startled them, and I could actually see the stampede high on the hill from where were standing at the Finish line. Nobody got trampled, but we heard the cows made a bee-line right through their fence. Whoops!
Congratulations Harald for "first to finish", and then completing three laps around the course!
Thank you! I am very grateful my loyal HURT volunteers: Pumkin & Bill, Ed and Carol, Sean, Rex, Steve, Keith, Marian & Neal, Mike M, Cheryl, last but not least, my Big John, all of whom showed up in great costumes.
Thanks Joe, for schlepping our race gear back to Kaneohe! Oh, and contrary to reports, Neal was a spider, not a big tick.
Click here to see the photos Cheryl and I took.
Love you guys.
pj