Kaena Point Firecracker Results and Photos (Updated)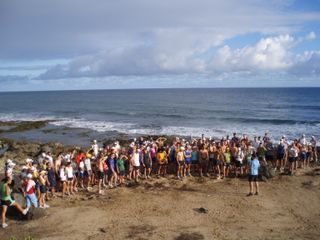 Saturday July 4th, 138 people showed up bright and early to run 10 miles and enjoy the beautiful scenery of Kaena Point.
Thank you to everyone that showed up and brought all the wonderful post-race potluck goodies.
We appreciate the support of everyone who came out and helped. Special recognition to John and PJ for registering and timing everyone. Joel and Step Jenkins–thank you for providing aid at the turn-around point. Thanks also to Rex and Cheryl who rode bikes out on the course and provided direction and support.I know I am probably forgetting someone as many people help with these races.
When we first started the trail series races, the idea was to keep them small, informal, low cost, and fun. Each year these races have gotten bigger and bigger. Registering and timing 50 runners was one thing. 75 to 80 runners are manageable. Now that our races are getting as big as they are, registering (and getting everyone's name correct), timing (and getting everyone's time correct), is all getting a bit more complicated. While we try to do our best, please understand if we don't get it all perfect. We are open to suggestions on this if you have any good ideas. Remember folks, this is a fun run, not a Boston qualifier!!! We are all just volunteering here.
I have added more photos here that Cheryl took out on the course. Here are the photos I have from the start/finish. If you click on the first photo in the album, it will become larger and you can click through all the photos like a slideshow.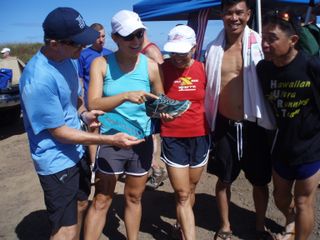 Laura Kloepper gave us an informal Brooks clinic and is showing us how the insole for her Cascadia running shoes has a profile of the Western States 100 Trail race printed on it.
We welcomed back recent WS 100 finishers, Gil Loomis, Marian Yasuda, and Ernest Tay.
The results can be seen here. We had some fast runners show up this year.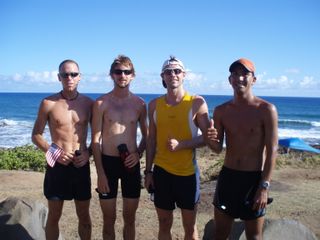 Men's top 4 left to right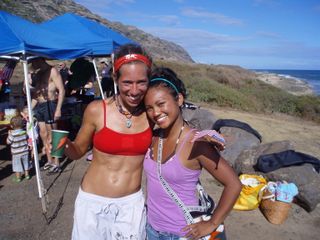 The woman's winner with a friend.
Remember the next race in the H.U.R.T. Trail Series is the Maunawili Out and Back. If you run it solo, the distance is 22 miles. Two-person relay teams are an option for this race with each runner doing 11 miles. The race is on August 1. Get ready as I hear you might be running with the pigs!
Aloha,
Bob & Barbi