Keiki Triathlon–Jakob Dewald!!
We were at a surprise birthday party tonight for Darin Mingo and met Richard Varley. Richard is very much involved with Keiki triathlon in the islands and it just so happened that Jakob Dewald was a featured athlete in an article in the Star Bulletin today. Click here to read the article.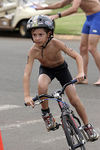 Click to enlarge the photo. Just look at Jakob's focus and determination. Talking with Richard tonight about Keiki triathlon, his enthusiasm is contagious. He had my daughter very interested in them. Richard is also the author of A Runners Guide to Oahu.