'Aiea Loop Express Post-race Wrap-up
The 2023 HURT Trail Series kicked off with a FANTASTIC field of runners who crushed a challenging course on a beautiful sunny day. A few comments we heard at the finish line:
"All these years running the Loop and I didn't even know a 'center trail' existed. That thing was AWESOME!"
"My first trail race ever. That was amazing and I'll be back!"
"The fast downhill on the other side of the loop was so much fun, then we got to the center trail and, um…more fun."
Well done to everyone, and thank you for joining us for a morning of trail fun!
A special mahalo to Jeff Huff who shared some Trail Series history, led the group through a moment of silence, and introduced the retired bib #1 — all in memory of John Salmonson. We appreciate that many runners signed a memorial "HURT Originals" shirt. If you didn't get a chance to do that, register for Vi's Top of Tantalus and get your signature on this special shirt.
Congratulations to our podium finishers:
Male:
1 Victor Garcia
2 Greg Voelkel
3 Eric Wesolowski
Female:
1 Sophia Lodigiani
2 Satomi Fujimura
3 Kaitlin Yeager
Prizes were supplied by Aloha Friday Wheelworks and Running Company (Kailua); Uloha Outdoor Store (Honolulu); and Smartwool Whistler (yes — British Columbia, Canada!).
Not least, we couldn't do this without the incredible support of many volunteers. HURT volunteers are one-of-a-kind and do a ton of work behind the scenes — while having just as much fun. If you're not racing, consider helping us put on a race. A SINCERE THANK YOU to this year's fabulous team:
Marian – Permitting and more
Jeff F and Snow – Course marking
Les and Derrick – Parking Czars
Andy G – Bagpipes master
Sandi, Brian, Lisa, Jeff F/Snow, Neal and Glen – Course marshals
Gus – Finish line photographer and webmaster
PJ Salmonson, Kelley, Drew, Mike, Neal, Glen, Jeff H, Sara, Matt, Melissa, Mark, Gus and Andy H – Start/finish and Timing Crew
Deanna, Noeau, Remy and Benito – Sweepers
Thank you, again, and see everyone soon!
– Shell and Jacki
Race Photos taken by:
Race Results with Finish Line Video:
The HURT Connection
For decades HURT has brought scores of people together to share their passion for the trails — and more. At the 'Aiea Loop Express Preview Run on March 11, two women who had registered for the race set out at the same pace and passed the time chatting and sharing stories about family. Somewhere along the course one of them realized they might be part of the same family — and the other, stunned, confirmed: First cousins who hadn't seen each other for 30 years!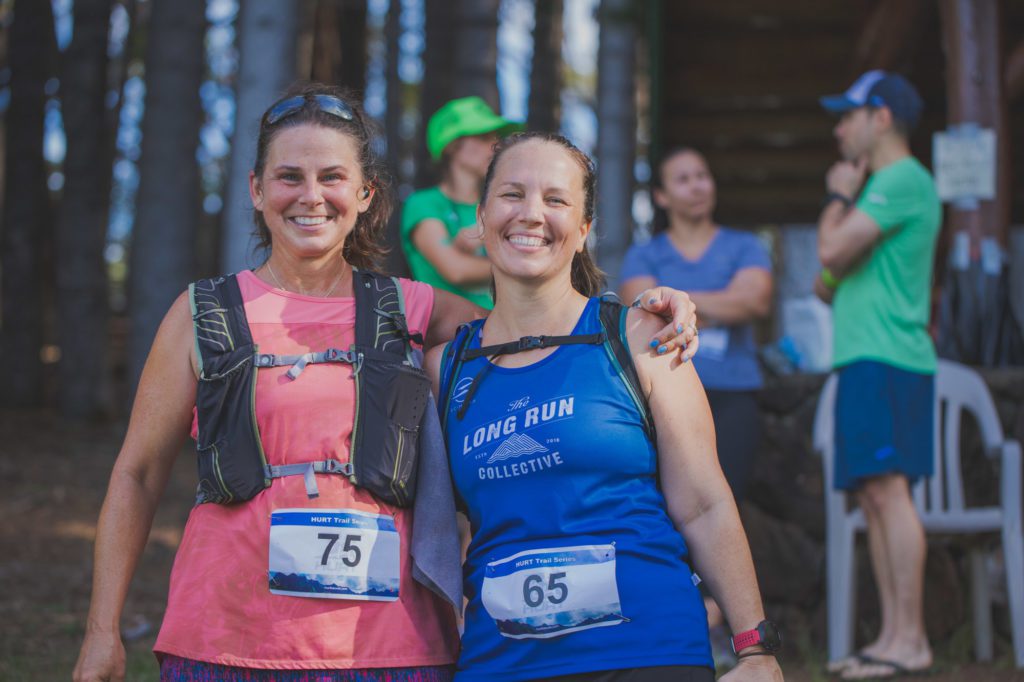 At the race they finished within minutes of each other with lots of hugs and making plans for the future.
Gotta love that HURT Connection!