Maunawili Out and Back (Run With the Pigs) Instructions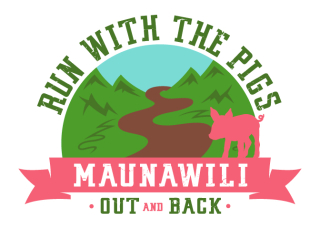 When: Saturday, August 5 at starting at 6:00 a.m.
Where: Koolau Golf Course (see map)
Details:
Parking – Parking will be very tight. Please see Download Parking map showing our designated parking area. If possible, share a ride to minimize the number of parking spaces needed.  Only those who are doing the full out-n-back and leaving their vehicle for the entire race can park in the designated area.  Relay teams (and those not leaving a vehicle for the duration) should park temporarily in the lower parking lot.  There will be Parking Czars to direct you – please follow their guidance and pull into the inner-most parking stall as closely as practical. 
Check-In – ALL runners must check in at the start / finish (that means both relay members). The gate to the golf course should be open by 5:30. There is an outside chance it will be earlier than that, but no guarantees.
Start – The race will start at 6:00. All runners must be finished by 2:00 pm. If completing the 22 miles in 8 hours is not possible, there is an early start option.  However; in order to start early, you must contact Marian (808-221-5171) in advance, carry lights with you, and have familiarity with the course (or be with someone that does).  There will be a turn-around cut-off: runners must be out of the turn-around aid station by 10:00 am in order to continue on the course.
Relays – Both members of the team must be at the start / finish in the morning to check in and be numbered. The second runner should proceed to the turn-around aid station in Waimanalo (see map) on Waikupanaha Street. When your runner arrives, hand off the car keys and the first runner can return to the finish.
Mandatory

Time cut-offs – Runners must finish in 8 hours and be out of the aid station by 10:00 a.m.
Golf Course – We have port-a-potties for your use. Do NOT go into the golf course for any reason.  Bring your own water to wash up after the run.  No alcohol consumption is allowed.
Fluids – You must carry enough water for 11 HOT miles. Sixty ounces minimum is recommended.  You must bring your own electrolytes and calories to endure the distance.
Trail Etiquette – Yield to hikers, equestrians, and other runners. Do not leave the established trail.  The pink ribbons will mark the route at both ends of the course.  Blue ribbon means BAD; do not go where there is blue.  If you drop out of the run, you must notify a race director (Neal (554-5848 or Marian 221-5171).  Take care of each other out there!
Pau Hana – Please plan to stay and enjoy some food after the run.